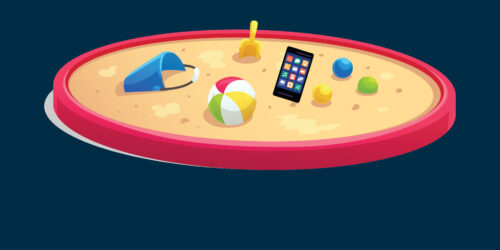 About Sandbox

What are sandboxes good for? They're places to explore, to play with new things in a low-pressure, try-and-see space. Here, those new things are ideas and tools related to technology. Sandboxes are also great spots to meet people — in this case, your future classmates at UIC.
Duration

60 minutes
Next session: September 29, 2021, at 2 p.m.
Program Participants

Would studying tech in college be fun? Useful for your future career? Right for you? Find out in Sandbox, a free 1-hour program that gets you on your way toward answering these important questions. Because this program is about taking your first exploratory steps in tech, it's ideal for students who are finishing up high school or in their first two years of college.

Additional Info

Sandbox sessions are open to any students who are interested in experimenting with tech.

Our September 29 session extends a special welcome to UIC College of Liberal Arts and Sciences students who are curious how they can benefit by adding a tech focus to their LAS major. Register here!
Join us in the sandbox!
You probably hear people say that the "hot careers" are in tech.
They talk about visionaries who are developing the next TikTok or Instagram. Data skills that lead to competing job offers. Post-graduation salaries near (or even over) $100,000.
But is all that for you?
And if it is, how do you get there from here?
In this FREE 1-hour program, Break Through Tech Chicago can set you on the path to finding out. Take 60 minutes to see what tech can do for you — and make some new friends way before classes even start.
The details
Who: New female and nonbinary students who are starting at UIC this fall and who have an interest in getting to know technology and data. You can be in any UIC college and any major (including undecided).
Your hosts: The popular professor Dale Reed — an advocate for #CSforALL, a.k.a. making computer science and tech accessible to all people — and the talented Cecilia Avila, a 2020 graduate of UIC who is dedicated to bringing more women and people from underrepresented groups into the tech world.
Bonus: Participating in Sandbox also gives you a chance to consider becoming a member of Break Through Tech Chicago — a huge asset as you go through your UIC career.
Cost: $0.00
Register: Using this brief form.
School-Specific Program Information
See you in the Sandbox!
Application Information
Register by September 28, 2021
Sign up here
Partner Institution

Women like myself, who are underrepresented in tech and business, could use this program to understand how the world is evolving. Break Through Tech is connecting us to resources and people who can shape our careers beyond college.
Marisol Lay, UIC student and Break Through Tech Chicago Sprintern