Congratulations!
You're nearly done with CS 111.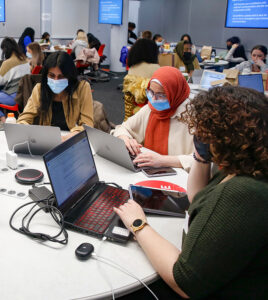 CS 111 is UIC's first-level programming course, and you're about to complete it. You know some Python. You've written code and gotten it to work. You've programmed things that are artistic or useful or entertaining.
Now you need to know: what's next? Which new experience at UIC will further strengthen your tech knowledge while retaining the support you receive from Break Through Tech Chicago?
Up next: CS 141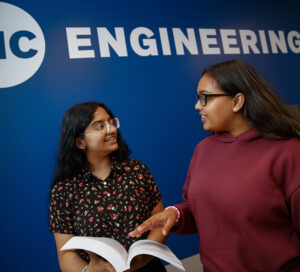 So far, you have learned about Python, one language that people use to tell computers what to do. Your next UIC courses will help you to become familiar with additional languages, such as C, C++, and Java.
In the second course in the sequence, CS 141, you will learn to program in C++. Curious what it will be like? You can search for beginner C++ videos on YouTube or explore an archived website from a past section of CS 141 taught by Dale Reed.
Are you ready to take CS 141 and choose a UIC major or minor in computer science or data science?
Visit our FAQ to learn about the process
Or, did you enjoy CS 111 but are still thinking about whether tech is for you? If yes, keep scrolling. The rest of this page may help.
You have potential.
Taking tech courses at UIC can make you a sought-after new hire.
Need proof? Below are six real job postings from companies that hire UIC students. A tech background could make you a candidate for these roles.
Words of wisdom from former students
Choosing a path in tech can feel confusing or even intimidating at this early stage. But don't worry. That's normal! Below, hear from recent UIC alumni about how they felt in the very beginning, and how they've succeeded since then. These videos were recorded during Dale Reed's online CS 111 classes.
Figuring it out as you go
Anna Mukhina, BS '13, grew up around computers but never saw them as being a part of her future career. In this three-minute video, Anna describes the twists and turns that took her from an undergraduate degree in economics to a career in tech.
Watch on YouTube
You're on the road!
Sruti Bhagavatula, BS '14, chose computer science because it was one of only two options available at her high school in India. But in trying it, she discovered the joy of writing small programs and getting them to work. (Sound familiar?) Today she is teaching computer science to new students at Northwestern.
Watch on YouTube
Courage to take the next step
Lydia Tse, BS '20, MS '21, realized after finishing her first undergraduate degree that she was interested in computer science. She made her way into CS by returning to UIC for a second bachelor's! She talks about the value in pursuing something that interests you, even if it takes a lot of courage to do it.
Watch on YouTube
Something small to do today
If you're still on the fence about CS 141, talk to us. The Break Through Tech Chicago team will set up an informal, one-on-one chat with one of us or with UIC's friendly computer science advisors. We can explore your options and work together on a plan.
In the meanwhile, find detailed information about what happens after you are done with CS 111 on our After CS 111: Helpful Guidance page.