Finding her people
Finding her people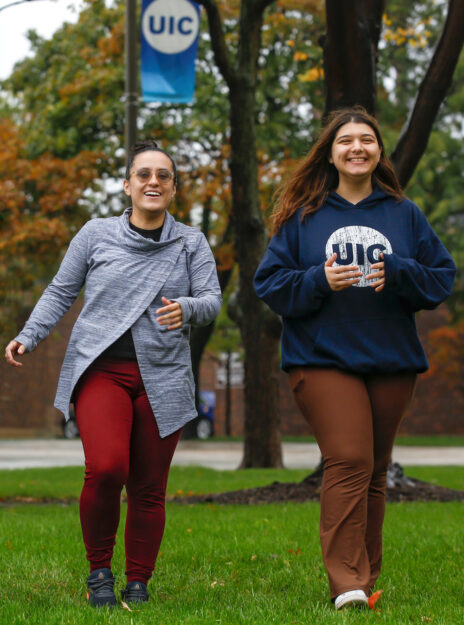 For chemical engineering major Astrid Vargas, getting involved with Break Through Tech was her key to discovering a lifetime of possibilities—and a support system to match.
Written By
Astrid Johanna Vargas
by Astrid Johanna Vargas, BS '24
As a first-generation immigrant, it has always been a struggle for me to find the right group of people. I wanted the opportunity to prove that I am just as smart and capable as everyone else. COVID-19 definitely didn't make this any easier.
I work a lot and go to school, and I'm not alone. A lot of people I know are just like me, working after and before classes and still getting a degree. It's hard. I am always thinking about what my career will be like, and all the work that I'll put into getting a job and earning a competitive salary once I graduate. When I heard about a program with Break Through Tech Chicago that could enhance my career opportunities, I signed up. I'm a chemical engineering major and I never knew what programming really was. During the program, I spent time with other women who were working in tech (who were from all majors), and they showed me what computer science really looks like, and all the doors it could open for me.
After that program, I added a minor in computer science to my degree and I found my group! I now have friendships that I plan to cherish for many years to come and study partners who I help and help me right back.
I have hundreds of examples of times I've been "the only" in a room and I'm tired of it. I really understand why it's so important for more women like me and underrepresented individuals to be part of the growing tech field. My friends and I come up with unique solutions to programs and projects. We are smart and talented and deserve to have opportunities to build things and explore interesting problems.
Looking back at this year, I can honestly say that the world needs more programs like Break Through Tech Chicago. To me, it is a safe place where women and underrepresented individuals can come together and support each other in order for all of us to accomplish our potential and dreams. I cannot wait to see what Break Through Tech Chicago has in store for me and others in the years to come.