Finding your power — and using it to lift others
Finding your power — and using it to lift others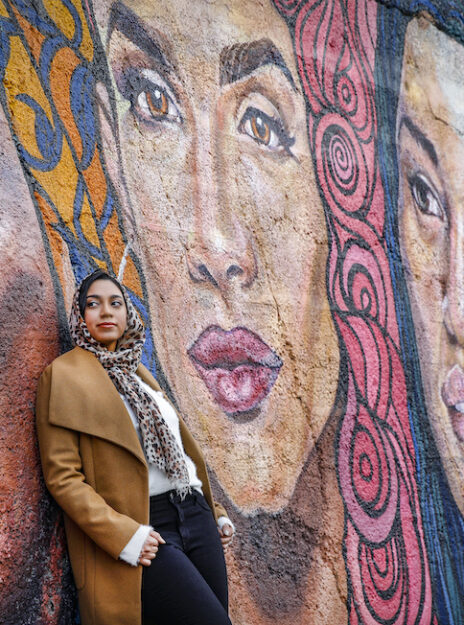 This is part of Break Through Tech Chicago's series of HOW columns, which tell how women in technology got where they are today and how we can increase the presence of women in technology tomorrow — in "her own words." This month's author, Sarah Ather, was photographed by Jim Young in front of the mural "Weaving Cultures" by Sam Kirk in Chicago's Pilsen neighborhood.
Her Own Words (HOW) series
by Sarah Ather, UIC '19, Associate Application Developer, CNA
The lights flashed red. We were on our way to school, slowing to a stop. A big white van pulled up next to us, and my mom rushed to roll up the windows of our modest but reliable Camry — it was older than me at the time. The men in the van leaned out the side of their windows and began to yell at my mom to go back to her country. This was neither the first nor the last time something like this happened. She brushed it off and continued about her day that consisted of working a full-time job, getting us home from school, preparing a fresh dinner for our family, getting my brothers and me ready for bed, and attending night classes at the local community college. My mom was the first — and remains the greatest — female role model I have ever had: a model of patience, persistence, and strength.
According to a recent report on Women in the Workplace by McKinsey and Company, only one of five senior leaders is a woman. A mere 1 out of 25 senior leaders is a woman of color.
There is a saying in Urdu that goes "Sabr ka phal meeta hota hai," which roughly translates to "The fruit of patience turns out quite sweet." The patience my journey has demanded has had its share of bitter moments, but it has been immensely fruitful. People always ask me why I rave about my time at the University of Illinois Chicago or why I chose to work where I do, and it always comes down to the amazing community of strong women and male allies who inspire and empower me.
My identity comes from many different places. I am an American-Pakistani-Muslim woman. I am a daughter of immigrants. I grew up in a low-income household. I am a woman in tech. I am a Chicagoan. I am a proud UIC Flame.
In my freshman year at UIC, I took my first computer science course with hundreds of students, of whom only a handful were women. This made me feel like I had to work twice as hard just to feel like I belonged. There was, however, a light at the end of those engineering building hallways that kept me coming back: female upperclassmen. One upperclassman in particular, Ishta, represented my first exposure to someone who served not just as a mentor but a sponsor. Ishta introduced me to Women in Computer Science (WiCS) and encouraged me to join the board. This is where things began to change.
We not only had a growing community of women in computer science but also had a space of our own, the WiCS lounge, not unlike the one I had read about in Virginia Woolf's essay "A Room of One's Own." I started spending more time in the WiCS lounge, gaining friends and mentors who genuinely concerned themselves with my growth and success. Through WiCS, I was able to attend the world's largest gathering of women in computing: the Grace Hopper Conference.
Grace Hopper was where I finally felt like I not only needed tech, but tech needed me. I'll never forget the goosebumps and sense of pride I experienced as I walked into the Toyota Center in Houston and saw thousands of energized women with grand smiles and even grander ambitions. I saw women on stage who did not just excel in their career in technology, but who were responsible for changing the world around me for the better. The CEOs, astronauts, inventors, and even the recruiters left me inspired.
As graduation approached, I began reflecting on how instrumental to my success it was to have a community of women who inspired and empowered me. I reflected on how my first tech internship was predominantly populated by men who filled the workplace and dictated the agenda and culture. I knew I had to do something for my own community.
Soon after graduation, I co-founded a nonprofit organization called Muslim Women in Technology alongside my close friend Safa Shameem. MWT's vision is to support, empower, and increase the confidence of Muslim women and other marginalized groups in a tech-centric world. We do this by providing educational, mentorship, and career opportunities. We envision and strive for an inclusive, diverse, and safe space that paves the way for high retention of female leaders in the workforce.
Over the past year, we have held monthly events featuring female leaders in technology, formed relationships with companies to create a pipeline of hiring from our community, and held networking events for Muslim women in technology and allies to help empower each other.
Our events have featured brilliant women leaders from Google, Facebook, Twitter, and even CEOs of startups. With the shift to virtual programming due to the pandemic, we have been able to expand our reach across the country. MWT welcomes allies of all genders and faith backgrounds. We are strong believers in the importance of intersectionality and working together with other disadvantaged groups to bring positive change.
If you are taking your first step into the world of tech, know that it is OK to be scared, but do not let that fear stop you. Learn to develop your own perspective and value it. Find a community of people who will uplift you. There are tons of women and male allies out there who want to help and see you succeed. Become an active member of those communities, support other disadvantaged groups, and join organizations like Muslim Women in Technology.
Toni Morrison said: "When you get these jobs that you have been so brilliantly trained for, just remember that your real job is that if you are free, you need to free somebody else. If you have some power, then your job is to empower somebody else."