College: more than just class
College: more than just class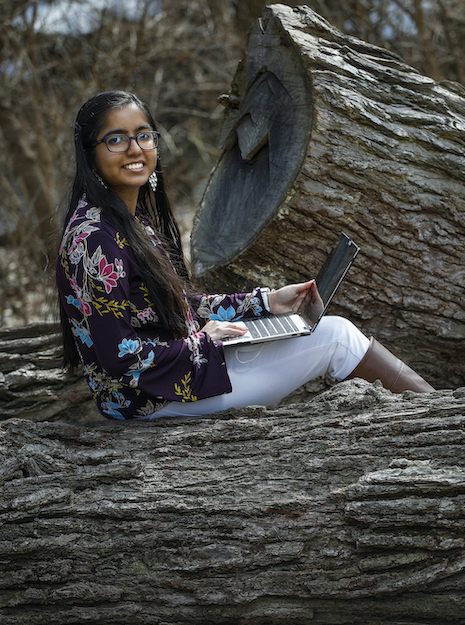 Student organizations can be more powerful than we think. Arpita Kumari, UIC '21, tells the story of how the Women in Computer Science group at UIC helped her realize that there is space for her in tech.
Her Own Words (HOW) series
by Arpita Kumari, UIC '21
My college career amounts to more than just a one-hour commute to campus every day and hard work academically. A big part of my undergraduate experience has been my involvement in the UIC computer science community. Since freshman year, I have participated in many programs and events that have built my confidence and leadership skills. This has played a big part in my undergraduate career and will be a big part of my future in the tech field.
One of the first things I got involved in when I started at UIC is Women in Computer Science, the student organization known as WiCS. I got a sense of community when I attended WiCS events. I realized I'm not alone, and it's okay to be nervous. It is common to see male dominance in a CS classroom, and as a freshman, it made me feel out of place. Attending WiCS events during my freshman year exposed me to the community and camaraderie of fellow females in computer science. This community has been my pillar because it helped me realize that I am not alone and that I do belong here.
My involvement with WiCS increased during my four years at UIC, and so did my level of responsibility: I eventually became a board member, then the event coordinator, and finally co-president this year! It really helped me to put myself out there with confidence as a female in computer science. It has been very fulfilling to be able to give back to the WiCS community that helped me to realize that I belong here. I've been able to collaborate with wonderful individuals on the board to organize new and innovative events to uplift women across UIC. In addition, the networking opportunities I've had through WICS have been immensely valuable. I was able to secure my first corporate internship through my involvement in this organization. I've also built positive relationships with other student groups and campus resources such as Women in Engineering Programs and the Engineering Career Center.
I have been a teaching assistant for the computer science department and then a lead teaching assistant for Break Through Tech Chicago, two roles that allowed me to network with a lot of people and develop my communication skills and confidence. During Break Through Tech Chicago's Winter Guild 2021, I got the chance to support an amazing group of diverse women! I was astonished to see how inclusion and diversity in the community helped everyone to lift one another up even in a virtual setting and to come up with innovative ideas for building an app designed to address food insecurity. Through all these experiences, I realized that I belong in computer science.
One noteworthy aspect of my teaching assistant positions is that I wasn't really "assigned" work from the beginning in either program. Instead, I always was asked what I hoped to get out of my participation and how I wanted to contribute. The tech industry is similar this way: we typically are asked what kind of role we're looking for and how we plan on making an impact. It's about being willing to step up and pursuing your passion along the way. We get out what we put in—and for my college career, that was being actively involved in my UIC community.