Letting go leads to discovery
Letting go leads to discovery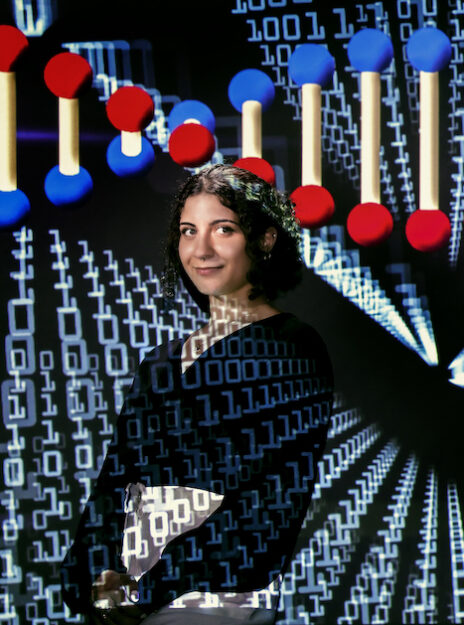 Sometimes you find a natural home for your aptitudes in a place you never thought to look. In this HOW ("Her Own Words") column, UIC student Linda Mansour explains how letting go of her initial conception of her academic trajectory led her to something better.
Her Own Words (HOW) series
My journey at UIC didn't actually start off in data science, or even computer science.
I started off with a major in neuroscience.
At UIC, I ended up taking General Chemistry 1 three times, only to settle with a C. After my second semester of General Chemistry 2 — five semesters total of general chemistry alone — I ultimately decided that I had spent too much time and money trying to learn it. I had lost interest in pursuing a career with this subject that I couldn't seem to grasp, even when I exceeded in every other subject pertaining to neuroscience.
I asked for advice from my friends, and one of them suggested that I look into bioinformatics. It is a concentration in UIC's data science major. After researching it, it looked to be a great fit for me! I love biology and exceed at it. Originally, I thought that giving up neuroscience meant that I would also have to give up biology, but thankfully that was not the case. In addition to that, I had new learning opportunities! It would be my first time taking a computer science class, which was daunting yet exciting since it was an entirely new subject to me.
This summer I took my first CS course with Associate Professor Shanon Reckinger, her wonderful teaching assistants, and Break Through Tech Chicago, and I was introduced to an outstandingly friendly and cooperative community. I loved my time during the four weeks and almost wish I had just taken the course during the regular 16-week semester so that I could spend more time with the people I met and have more to discuss. In this class, people cooperated, ideas were heard and encouraged, and people actually had fun and were able to use their creativity in their work. It was a glimpse into a different door that I was going to open. Taking this course, with the peers and faculty who supported me through my transition from neuroscience to data science, was a profound experience that I will never forget and never regret.
I have my whole life ahead of me to continue learning this subject, and I am so excited to learn it with others along the way. It also taught me that if I'm not even a little bit afraid of what's to come next, then I am not challenging myself enough.