Enhancing the tech behind the business of sports
Enhancing the tech behind the business of sports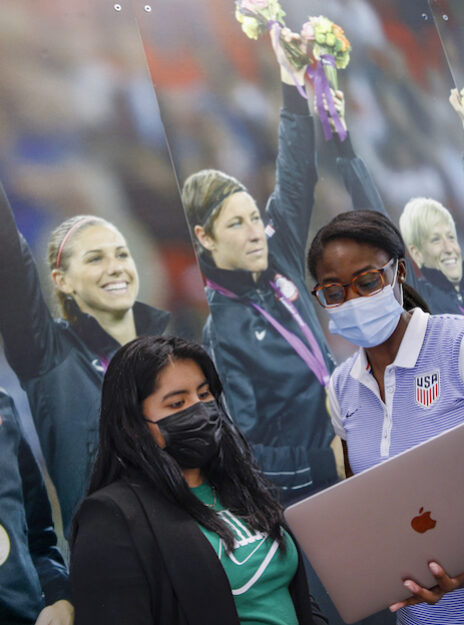 Not all tech jobs are at tech companies. Five UIC women applied their technological know-how to a powerhouse of the sports world through their Break Through Tech Chicago Sprinternship.
Written By
Kirsten Janson
When Ifra Rabbani was deciding on a college major, she thought about what she didn't want in a career: "I didn't want something boring, and I didn't want something static."
Those criteria, coupled with some coding experience in high school, led her to a computer science major and, most recently, a three-week internship with the U.S. Soccer Federation—an experience she said proved just how many exciting possibilities could be available to her in tech.
Rabbani was one of 114 UIC students who participated in Break Through Tech's inaugural Sprinternship program, a micro-internship experience designed to prepare students for future internship prospects and aimed at the overall goal of increasing gender diversity in tech.
"Being a woman in computer science, I was incredibly intimidated at the thought of a 12-week internship," she said. "This was short, but it was so much fun, and I had such a great time with the company and my team. I think it better prepared me for ending up in a longer internship or job in the future."
During the three weeks, Rabbani worked with fellow UIC students to build an intranet for U.S. Soccer's 180-member staff. The goal of the project was to help the company's newly established support services department enhance technology tools for all of its operations.
"We needed something that would be the big facilitator of communication for the whole organization," said Nicole Idowu, director of U.S. Soccer's support services department and the Sprinterns' supervisor.
The team met with a number of stakeholders—human resources, event and broadcasting staff, sport development managers, and business departments such as finance, legal, and compliance—to gather a wish list of features to incorporate.
Another computer science student on the U.S. Soccer Sprinternship team, Daniela Rodriguez, said that she "did a lot of networking and learned about other departments, which I feel was an important factor."
Both Rodriguez and Rabbani felt that they benefited immensely from learning the inner workings of the company, collaborating on a team, and managing a project from start to finish, but it was the executive lunches set up by Idowu—where the students met with U.S. Soccer's chief executives—that left a big mark.
Idowu said these lunches was inspired by what she'd want if she were a Sprintern. "If I was coming to a new company, who would I want to meet? I think everybody would love to meet with the leaders," she said. "We wanted to use this opportunity to really open our doors and allow them to ask any questions they want."
Those lunches, Rabbani and Rodriguez said, were foundational in building their self-confidence. "Getting to talk to executives was amazing because I was not expecting to be able to do that," Rodriguez said. "It gave me the confidence to network for myself and do things in order to be successful."
Rabbani said the whole experience reinforced that she's in the right place and going in the right direction. "At the end of every semester, I ask myself, 'Am I really in the right major?' I think this finally made me feel like I am."