Solving old problems with new tech
Solving old problems with new tech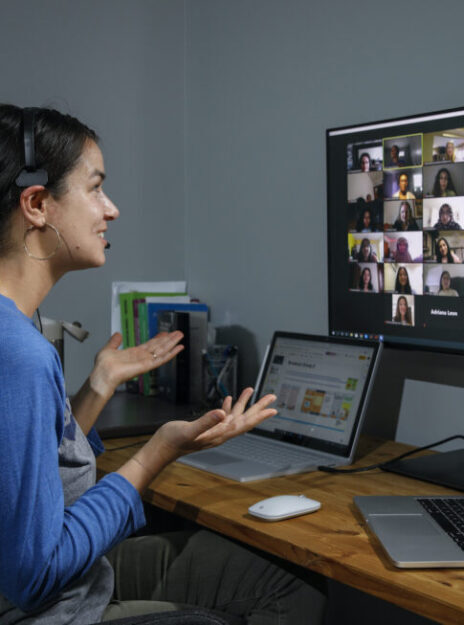 Summer Guild was taught virtually this year, but that didn't prevent students from coming up with bright ideas for resolving problems related to food insecurity.
by David Brazy
As a term, "food insecurity" is relatively new. But for people around the world, it has been a problem for thousands of years.
The persistence of this problem — which refers to the lack of access to a stable supply of affordable, nutritious food — demands fresh ideas. A group of UIC students worked on generating solutions using a technique called "design thinking," an innovative process that focuses on understanding problems, exploring a wide range of solutions, and testing those answers. A lot.
The question at hand: how to use technology to move the needle on food insecurity. But the people taking on this challenge were not technologists. Not computer scientists. Not programmers. They were UIC students representing all kinds of undergraduate majors, and design thinking was their "way in" to technological problem-solving. Together, they became Break Through Tech Chicago's first Summer Guild, a five-day intro-to-tech program sponsored by Morningstar.
Working in teams, Summer Guild participants set about creating an app that could help address a specific aspect of food insecurity. The course instructors and mentors offered a few suggestions, but the teams were free to come up with their own app ideas.
For example, after hearing how a local Chicago food pantry is struggling with safely distributing food during the COVID-19 pandemic, one team decided to create an app that will allow users to pick the food they want from the pantry before stepping inside. The app then allows the user to have the food delivered or made ready for them to pick up when they arrive.
Another group designed an app to help improve the workflow and communication processes at food pantries. Their app will help streamline the registration process to ease the burden on volunteers and to allow people to get food faster. The team's app also helps solve language barriers via a translation function and features a barcode scanner to show nutritional facts of different products and produce.
Taria Reese and Liberty Astorga both said Summer Guild was a fun, informative way to get introduced to computer science.
Reese's path to Summer Guild began with, of all things, a sweatshirt. While working at a local supermarket, she met Dale Reed, a UIC clinical professor and advocate for diversity in computer science. She started a conversation with Reed after noticing the UIC computer science logo on his fleece, mentioning her interest in studying CS at UIC as a new fall student. Reed, the academic lead for Break Through Tech Chicago, recommended Summer Guild.
"I have been enjoying the class a lot," Reese said. "I love that we have learned about how to make our own apps. All the TAs, volunteers, and professors have been really kind and knowledgeable."