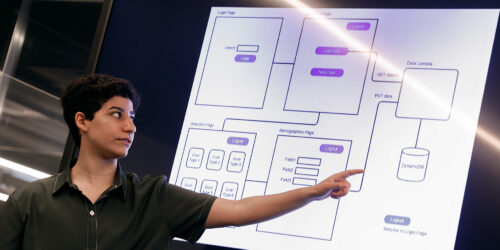 About Tech in Residence

Tech in Residence builds on momentum from our Sprinternship program to advance gender equity in tech. It combines a corporate-sponsored UIC computer science elective with the possibility of a summer internship or full-time job with the company after the course ends. Earn 3 UIC credits while teaming up with fellow students to put your tech knowledge to work!
Duration

January to August
Applications are accepted each fall for the following spring/summer program.
Program Participants

You may apply for Tech in Residence if you:

Are a UIC undergraduate with sophomore, junior, or senior academic standing and expect to graduate no earlier than May of the semester the Tech in Residence course runs
Have a declared major in computer science, data science, CS and linguistics, or CS + design, or have a declared minor in computer science. You also need to have completed at least one semester of your major coursework at UIC
Have a GPA of at least 2.75 and are not on academic probation
Have prior tech-related work experience (such as a Sprinternship or internship) or are enrolled in CS 251 Data Structures for the fall semester or have already completed that course with a grade of C or better

Additional Info

Just over 20 spots are available each year for Tech in Residence. This program includes two exciting parts. First, you take a spring semester UIC CS tech elective (3 credit hours) in which you and your classmates work as a team on a technology project provided by a partner company. Second, you have the chance to apply and interview for a summer internship or full-time job with that partner company. The program lets you develop your tech skills while capturing the attention of a prospective employer.
How it works
Classroom phase: January through May
About 20 UIC students are selected to enroll in the Tech in Residence course, CS 394 Special Topics in Computer Science (3 credit hours), offered by UIC's Innovation Center, the computer science department, and Break Through Tech Chicago. With guidance from a professor, Tech in Residence students collaborate on hands-on challenge project(s) provided by a partner company. Participants learn new skills and perspectives while developing a real product or service for the sponsor company.
Internship phase: June through August
Students registered in the spring-semester course will have the opportunity to interview for a summer internship (all participants) or a full-time job (graduating seniors only) with the partner company. These interviews will occur in the fall semester (prior to start of the spring course) and is part of a hiring process that is independently managed by the partner company, rather than by UIC or Break Through Tech Chicago. Students who are selected for internships or jobs work on-site at the partner company, and this work may involve developing the challenge project to completion and/or helping to implement it.
Please note: The opportunity to interview does not imply a guaranteed internship or job offer. However, even if the partner company does not extend an internship or job offer, a student who receives approval from the instructor of the Tech in Residence course can still take the 3-credit tech elective and benefit from that learning experience.
Who is the partner company?
Each semester, different companies may sponsor a Tech in Residence team. The partner companies for spring/summer 2024 are:
AbbVie, a global pharmaceutical firm that is committed to bringing diversity to tech. Abbvie's Business Technology Solutions team is investing in tomorrow's technology workforce, and UIC is an important partner for its early-career tech hires. In general, the company is known for producing medicines that treat cancer, autoimmune conditions, eye diseases, and other illnesses. AbbVie is headquartered in North Chicago. Several teams of Break Through Tech Chicago students have had successful experiences with the company in the past as Sprinterns™.
Grainger, another Sprinternship partner company that is working toward gender equity in tech. Grainger is a leading North American distributor of maintenance, repair, and operating products and services. The company's tech team, located in the downtown Chicago office, builds next-generation technology that connects millions of businesses to the products they need. Technology team members work collaboratively to build solutions to business problems in areas such as search, web, infrastructure, customer information management, and information security.
What's the challenge project?
Challenge projects vary each semester, but they typically require problem-solving, design thinking, and developing creative solutions that rely on technology and data. Students approach these challenge projects collaboratively in teams of four or five. UIC faculty members will share more about each semester's project topic and structure during the fall information sessions that are held for students who might be interested in the tech elective course.
Who teaches the course?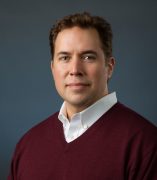 The instructor is Mark Hallenbeck of the computer science department. His academic focus is software engineering, and he is especially interested in classroom experiences where students can learn by doing. For this reason, he has a longstanding relationship with the UIC Innovation Center.
If you are unfamiliar with the Innovation Center, learn more about it here! The Innovation Center seeks to generate innovative ideas and solutions by getting UIC students involved in courses, research projects, and labs that are sponsored by companies. Students benefit by engaging in experiential learning (or, put another way, learning by doing) and working in cross-disciplinary teams with fellow students and faculty. Companies benefit from students' fresh ideas and diverse perspectives. Companies that have sponsored Innovation Center learning experiences include BMW, Bosch, Caterpillar, and OSF Healthcare.
Are you eligible to apply?
Please see the "Program Participants" section at the top right corner of this page to find out.
Info sessions and deadlines
Abbvie:
Application deadline: September 24, 2023 | Apply
Grainger:
Information session: October 3, 2023 | Sign up here
Application deadline: October 8, 2023 | Apply
School-Specific Program Information
Interested in participating?
Application Information
Please see eligibility and application instructions above!
Partner Institution