CS + design major
CS + design major
The human experience is inherently interactive and visual. And today, so much of what we do and see is mediated by technology. We experience aspects of our lives and absorb information on phones and laptops, through virtual assistants, on giant LCD panels, via responsive touch screens, and even in simulated 3D worlds.
Graphic design creates the beauty and appeal that draws us to those devices, platforms, and programs for the first time and compels us to return. Graphic design is also essential to function: ensuring that these technologies offer an intuitive, satisfying experience for users of all kinds.
Developing epic technologies requires an understanding of computing and graphic design. UIC developed the CS + design major to give you — our future creators — an education in both.
What do people in this field do?
These are a few of the many careers you can pursue with an education that blends computer science and graphic design (and their approximate annual pay, according to sources including the U.S. Bureau of Labor Statistics, Built in Chicago, and PayScale):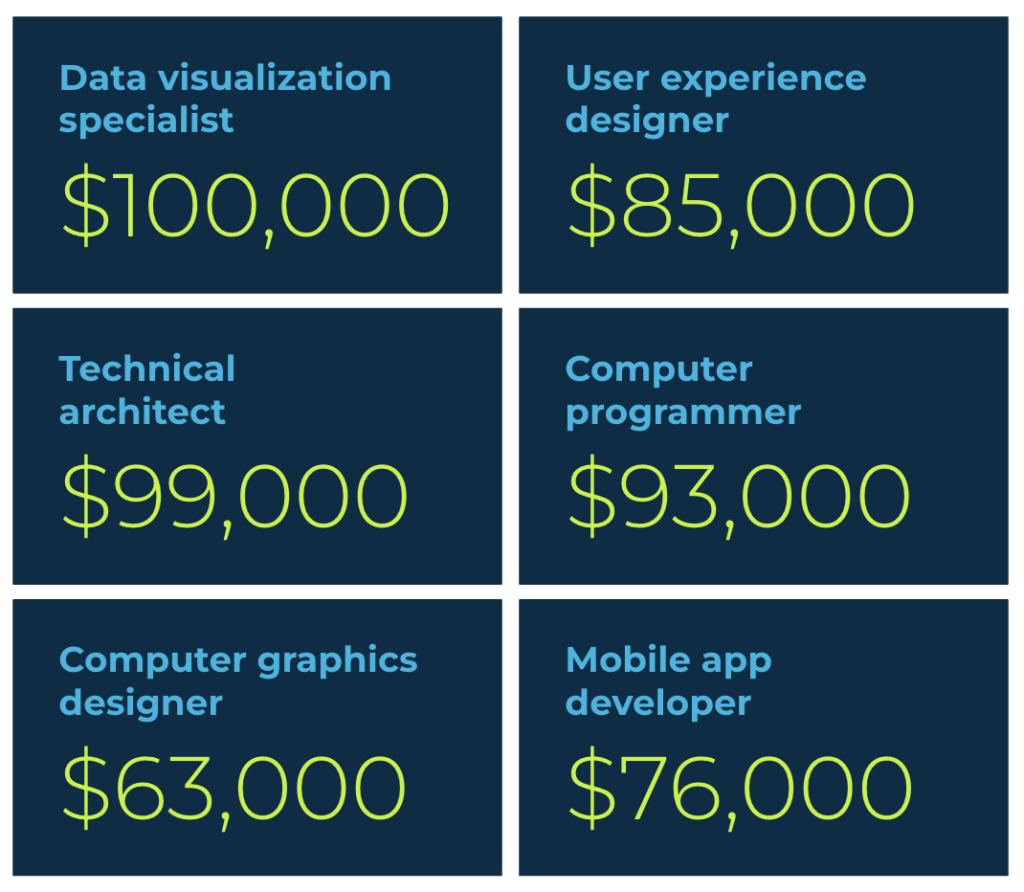 Tech, design, and diversity
Could you imagine if every piece of art were made by artists with exactly the same perspectives, backgrounds, and ideas? No, we can't, either.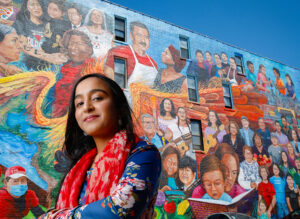 The world of graphic design is at its most vibrant, exciting, and useful when a broad constellation of people contributes.
That's why UIC values diversity among its CS + design majors. We especially welcome women, nonbinary students, and people from other underrepresented backgrounds who can design a future that is functional and beautiful for all.
The CS + design major, start to finish
You can think of the CS + design major as covering three primary areas:
Computer science courses: Computer science requirements and electives will teach you how to program. You'll learn how computers store and process information, how humans interact with computers (visually and otherwise), how virtual and augmented reality environments are created, and how computers can help to present data.
Design courses: Ten design courses will immerse you in the creation and use of photography, typography, and other key visual elements. You will become fluent in the design process, practice using industry-current design software, and work in teams with other design students on practical projects.
General education courses: These courses allow you to explore writing, art and design history, culture and society, math, science, and other subjects that will enhance your critical thinking skills and your understanding of context.
One of our computer science faculty members, Shanon Reckinger, drew this flow chart to help you visualize the structure of the CS + design major: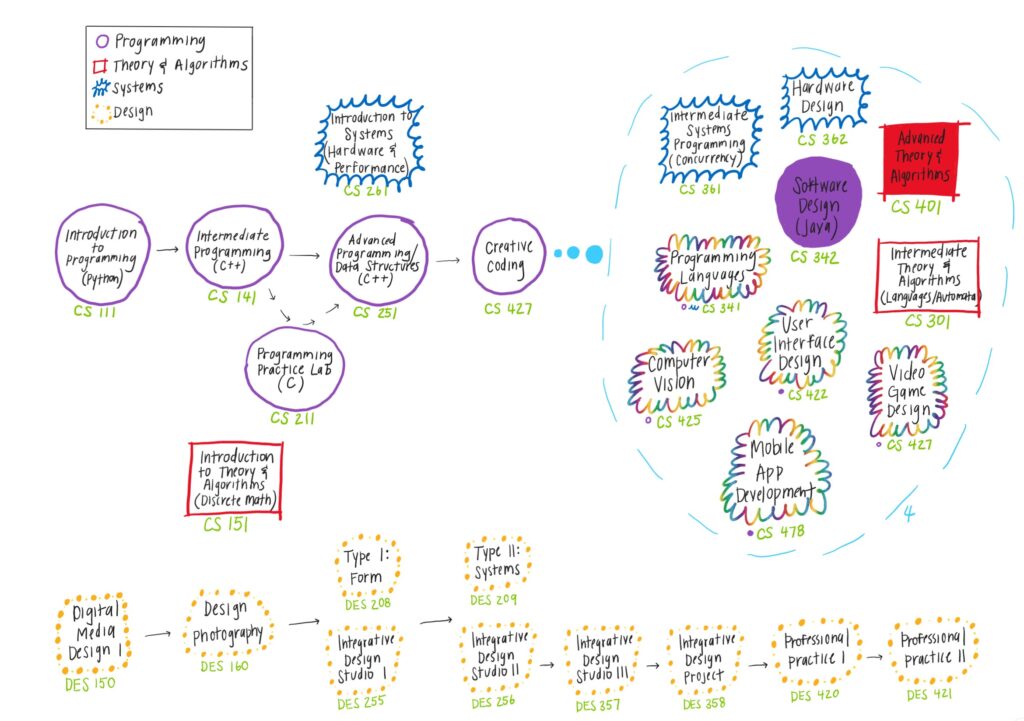 Course highlights
Through a mix of required and elective courses, each CS + design student gets the chance to choose a unique set of classes that appeals to them and meets their goals. Here are three courses that might be a part of your UIC CS + design degree:
CS 427 Creative Coding. This course focuses on interactive media, virtual reality, 3D interaction, audio design, typography, theater, audiovisual media, and seminal works. We take a deep dive into the techniques and challenges of designing for virtual reality. We investigate novel forms of creative practice and develop collaborative virtual reality projects in interdisciplinary teams of computer science and design students, which are presented during a public exhibition at the end of the term.
DES 150 Digital Media Design. This studio-style class introduces students to the fundamentals of design in digital media. The goal of the class is to gain an understanding of the latest design software and its uses in creating both pixel and vector-based imagery. We think deeply on textures and patterns in the world around us and the ways in which we can manipulate them digitally. Students learn to manage a digital font library and file formats utilized in design disciplines. Using images we create, we also introduce elements of motion design in relation to our understanding of pattern and texture. Finally, we discuss generative image-making and how to establish an image sequence that results in unique and unexpected compositions.
DES 208 Typography I and DES 209 Typography II. Knowledge of and skill in typography lie at the core of being a designer. Understanding the structure and intention of a letter and working with size, weight, style, space, color, texture, and rhythm are all necessary to give breath and sparkle to a design. These classes offer an introduction to the aesthetics and mechanics of typographic form and usage. Students complete a series of projects that use type as an element of graphic design composition. Through making books and posters, students learn recognition and classification of type styles and explore alignment, hierarchy, and legibility.
The CS + design major in depth
Ready to explore the computer science + design major in detail? Use these links to access everything you need to know about pursuing your CS + design degree at UIC.
Degree requirements in full: See the UIC course catalog page for CS + design
Computer science courses: Read descriptions of all the undergraduate courses in the computer science department
Design courses: Read descriptions of all the undergraduate courses offered by the School of Design
Declaring a CS + design major
Learned everything you need to know about the CS + design major and are ready to add it to your UIC program?
If you are applying for admission to UIC …
Visit the UIC undergraduate admissions website to start or continue your application.
If you are already a UIC student …
Visit this page and start from step 2.
Not sure yet? Test the waters by enrolling in CS 111, a no-experience-required course that introduces UIC students to computer science from the very beginning.
You are welcome to set up a time to talk anytime — either with a member of the Break Through Tech Chicago team or a UIC computer science advisor.