Data science major
Data science major
What's one thing that big companies, small businesses, governments, and nonprofits have in common?
They all want to make smart decisions — choices that are supported by data. Based on the preferences and habits of local cyclists, where should the city put a bike lane? Do consumers want to buy their clothing from designers who express a commitment to the environment, or does it make no difference? How many crates of vegetables and pounds of meat should the food pantry stock to meet the weekly needs of families in a particular neighborhood?
Data scientists are uniquely trained to help companies, government agencies, and nonprofits to answer questions like these. At UIC, data science majors learn how to dive into any pool of complex information to find the answers that people want — and discover nuggets of wisdom those people didn't even know to ask for.
What do data scientists do?
In general, data science involves a cross-disciplinary skill set: some programming, some statistics, and some math, combined with a sharp business mind and good communication skills. You'll mine repositories of information for valuable takeaways and then package your findings in easy-to-understand ways, allowing anyone to learn from what you found.
Here are some examples of careers that you can pursue with a data science degree (and their average annual pay, according to the U.S. Bureau of Labor Statistics and Built in Chicago):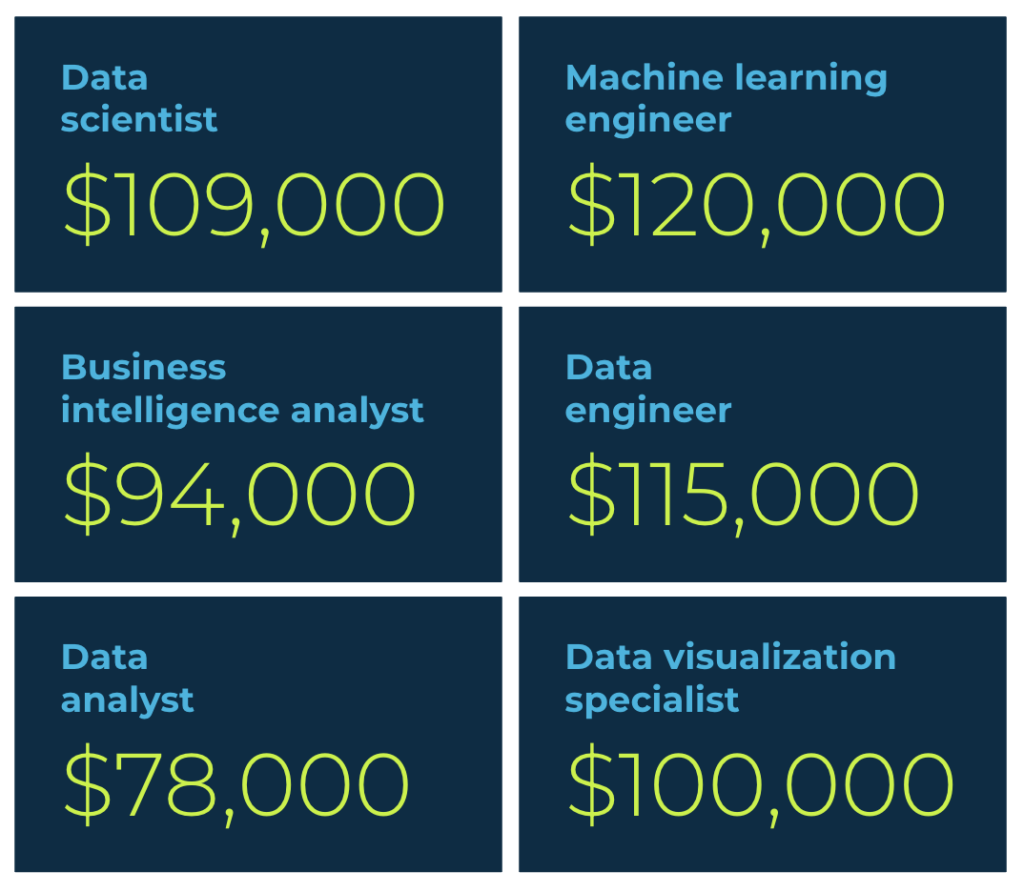 Did you know:
This is how many bytes of data there are in the world for every grain of sand on Earth.
Data science is a rapidly growing field. As of just two years ago, there were three open jobs for every applicant!
Let's look at the data — together
When several people look at a puzzle, they might see different solutions or opportunities. Think about it: if you showed a word search to two friends, they'd probably each spot a different word first.
This illustrates the importance of diversity in data science. If people from a wide variety of backgrounds and outlooks examine complex information together, we have the best chance of uncovering all the possible insights.
That's why UIC is committed to helping more women, nonbinary people, and students from underrepresented backgrounds in tech to become the data scientists of tomorrow.
The data science major, start to finish
You can break the data science major into three areas:
Concentration electives: You'll hear people say that you can apply your data science knowledge and skills to any area that piques your interest. It's true! Inspired by that idea, UIC allows you to choose one of nine areas where you can focus your analytical power. (Learn about them in the "major in depth" section below.)
Data science core courses: Data science is an interdisciplinary major, meaning that a data scientist's skills are a tightly knitted blend of math, statistics, computer science, and business. The core gives you a foundation in all of these subjects.
General education courses: These courses enhance your perspective and familiarize you with the myriad types of information that our world produces. In this course group, you will study history, culture, language, and how to analyze the natural world.
One of our faculty members, Shanon Reckinger, drew this chart to illustrate the general flow of the data science major. In this example, she shows how the computer science concentration expands into a bubble of specific courses. Each of the nine concentrations (which you'll see in the vertical row in the middle of the chart) contains its own set of relevant courses (not all shown here).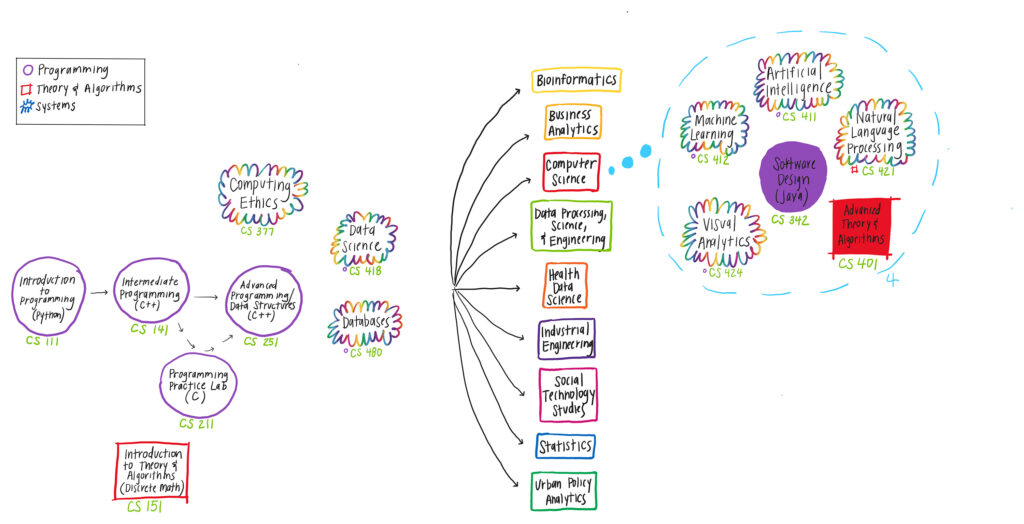 Course highlights
Data science majors get to pick from many different subjects, so your major is likely to be a unique creation that suits your interests and career goals. To get you thinking, here are some UIC courses that data science majors tend to enjoy:
CS 418 Introduction to Data Science. This course introduces state-of-the-art data science methodologies and algorithms. With a focus on both theory and practice, the course covers all stages of the data science lifecycle, from conceiving an idea to finding the right data, hypothesis generation and testing, exploratory data analysis, machine learning, handling large datasets, and presenting results in a meaningful manner. Students come out of the course with hands-on skills in developing a data science project for solving real-world problems.
CS 480 Database Systems. Many aspects of modern life (think online banking, social media, navigation systems, biomedical research, and more) depend on rapid, secure, and reliable access to large amounts of data. In this course, students learn how to retrieve and synthesize existing data, how to design effective and efficient database structures to store data, and how to programmatically connect to and manipulate database systems. Students also learn about the wide variety of data storage tools and systems available for use in building and delivering products and services.
STAT 381 and 481 Applied Statistical Methods I and II. These courses provide an introduction to basic statistical methods, balancing theory and methodology. Instructors use real data from actual studies and experiments to show how the concepts and methods of statistics can be used to solve problems and derive meaningful and remarkable inferences from data. This methodology reaches far and wide to almost all applications in the real world, and the courses provide preparation for further study and careers in data science.
The data science major in depth
Ready to explore the data science major in detail? Follow the links for each concentration to learn about the degree requirements and elective options.
Declaring a data science major
Learned everything you need to know about the data science major and are ready to add it to your UIC program?
If you are applying for admission to UIC …
Visit the UIC undergraduate admissions website to start or continue your application.
If you are already a UIC student …
Visit this page and start from step 2.
Not sure yet? Test the waters by enrolling in CS 111, a no-experience-required course that introduces UIC students to computer science from the very beginning.
You are welcome to set up a time to talk anytime — either with a member of the Break Through Tech Chicago team or a UIC computer science advisor.