Bringing the brains of tech to the heart of Chicago
Bringing the brains of tech to the heart of Chicago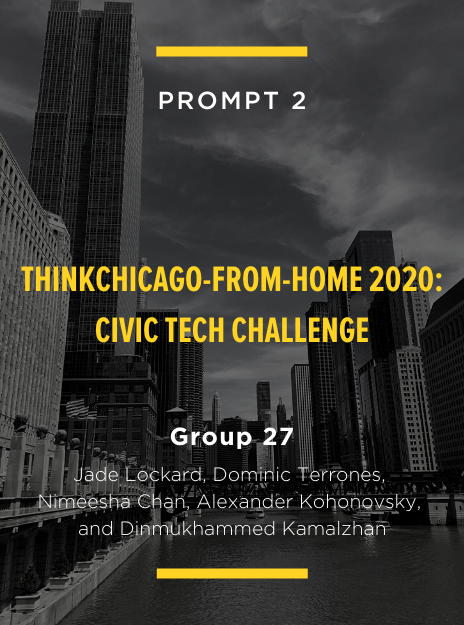 This is part of Break Through Tech Chicago's series of HOW columns, which tell how women in technology got where they are today and how we can increase the presence of women in technology tomorrow — in "her own words."
Her Own Words (HOW) series
by Nimeesha Chan
ThinkChicago is a national STEM talent attraction and retention program for Chicago tech and innovation companies, and for this year's summer event, about 250 students all over the country participated in the virtual ThinkChicago-at-Home 2020. I love meeting new people and learning about their background and interests, and I enjoy working under pressure to collaborate and generate solutions to problems that I do not know too much about yet, so this was perfect! I am majoring in computer science, so all things tech-related definitely interest me, but I also wanted to learn more about the Chicago startup culture and listen firsthand to the experiences of our local tech founders and entrepreneurs.
The program itself was broken up into two parts: the civic tech challenge and the talks. This year's challenge was centered around Chicago's COVID-19 recovery effort, and our prompts were based on the five core priorities highlighted in Mayor Lori Lightfoot's Recovery Task Force's advisory report. Prompts were released a week before the kickoff, and on the final day, the best slide decks for each of the five priorities, out of 50 teams, were selected to be pitched. My team's prompt was to "expand economic opportunity, quality employment, and financial security" with a focus on supporting small businesses and tackling mass unemployment, especially for low- and middle-skilled workers. My team and I individually researched the problem and potential solutions before brainstorming, over a few Zoom meetings, to form a collective solution. I personally think the diversity of our team really made a difference in the discussions and conversations we had and ultimately led us to creating a solution that was much more thoughtful, holistic, and practical.
COVID-19 has put small businesses in particular at risk for closure, and low- and middle-skilled jobs, disproportionately held by Black and Brown workers, are being hit the hardest. In Chicago, where disparities exist in job opportunities, there is an urgent need to equip our displaced and young workers with essential technical skills and modernize our small businesses to compete in an increasingly tech-focused market. We thought of an apprentice program in which selected apprentices would be invited to complete an "Intro to Information Technology" certification course. The City of Chicago would partner with local tech companies to offer software subscriptions to small businesses to increase their online presence, rethink their business operations (like receiving online orders), and help them succeed in these changing times. Apprentices would work alongside partner-company employees and small business owners to integrate new online solutions for small businesses. This would create a structure that could reduce unemployment by re-skilling unemployed workers and support small businesses while establishing a pipeline to further the overarching goal of growing the Chicago tech economy.
I equally enjoyed the ThinkChicago talks. We had an incredibly diverse panel of guest speakers who were founders, entrepreneurs, and business and tech professionals in industries from finance to nonprofit to education and even to entertainment — many of them from underrepresented groups. Many commented on how the tech scene in Chicago focuses on grounded solutions that address genuine, pressing needs in our city, like creating more opportunities for minorities and supporting local businesses, instead of solely chasing the next bitcoin. It broadened my understanding of what startups are and can be. I am looking forward to the next ThinkChicago event in the fall and to participating in other tech challenges and hackathons.