Finding chemistry outside of chemistry
Finding chemistry outside of chemistry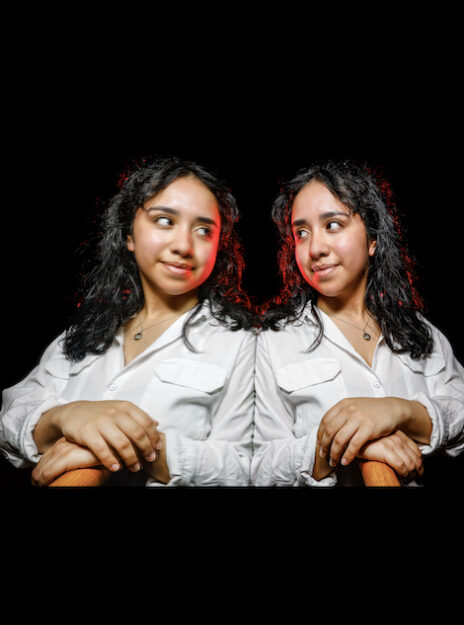 Just because every step of your future isn't mapped out by your first day of college doesn't mean you won't succeed. Monse Castillo shares the story of how she eventually found her way to computer science — and the discoveries about academics, her university community, and herself that she made along the way.
Written By
Monse Castillo
Her Own Words (HOW) series
Growing up with immigrant parents, I did not have family who had gone through the education system in the United States. My family and I had no solid understanding of the purpose of high school or college. Beginning college was one of the biggest transitions in my life.
As a first-generation Latina college student, I never had a lot of guidance and always felt lost, especially when it came to my career goals. Starting college life felt so exciting but also so terrifying. The fear hit me after my family dropped me off at my dorm at the University of Illinois at Urbana-Champaign.
I was unclear on what I wanted to pursue as a major, so I started as an undeclared student. While taking classes in my freshman year, I became interested in chemistry, which led me to declare it as my major after my first two years at Urbana. Everything felt like it was going smoothly until the pandemic disrupted the world. It impacted my college education and made me question my major and career goals. I realized I had no idea what types of jobs chemistry could offer, and the pandemic caused my life as a student to feel stagnant.
So, I decided to move back home and transfer to the University of Illinois Chicago. While attending UIC, I began research in chemistry, which was a valuable experience. I finally got to experience what the field was like, but I also began to question if that was what I wanted to do after graduation. It ended up that I didn't. I was thankful that I learned this but became worried about my next steps.
I began exploring resources that could assist me in figuring out what I wanted to accomplish with my degree. I searched for programs at UIC, joining the Las Ganas Mentoring Program and attending a presentation about Break Through Tech Chicago, which I heard about through Melissa Hernández.
Melissa talked about all the great opportunities the program offered and the advantages of a computer science degree for women and nonbinary students. She spoke about computer science as an interdisciplinary subject that can be found in all fields. I remember her describing the required courses as steppingstones. She mentioned how a major or minor in computer science could advance your career in other disciplines. At the time, I was looking for a minor to add to my chemistry degree, and that is when I knew I had to take advantage of this opportunity. I connected with Melissa; her shared experience as a first-generation college student made me feel relieved. I felt so comfortable asking her questions that I registered for the introductory CS 111 course with Break Through Tech Chicago. I also scheduled an appointment with Astrid Vargas, a student lead with Break Through Tech Chicago who is also pursuing a computer science minor. Just like Melissa, Astrid made me feel confident, and I was excited to take the next steps toward my career. Joining Break Through Tech Chicago has been nothing less than an amazing opportunity, and I was fortunate to also begin working in the program's office.
I realized that no matter how I might have felt with not being qualified as a Latina student, you need to trust yourself and take chances on your own journey in life. I learned that I wanted to align my self-esteem with my steppingstones, not my grades. I became excited about not only gaining knowledge in a new field, but also combining it with the field that I was already in.
It is also important to believe in and take care of ourselves along the way. With my new self-motivation, I invested in myself through dance, which brought me joy and balance while I worked toward my career goals. Dancing has not only allowed me to express myself but also given me precious moments outside of searching for an extraneous bracket in my broken code. I use dance to connect with friends and family, and it is so meaningful to me.
I am grateful for Break Through Tech Chicago, which has provided me with opportunities that include my first-ever codeathon, a data workshop led by Professor Gonzalo Bello, and a Sprinternship with Optum, where I get to work alongside amazing fellow Break Through Tech Chicago members. Even before I officially started my Sprinternship, Optum offered me an extended 10-week summer internship with an opportunity to convert to a full-time position once I graduate. As a junior, I am still shocked at how much progress I have made in computer science, and I am confident to say that I have found my purpose. I would like to thank Break Through Tech Chicago for all the support and dedication. This program is what I needed to become successful, and I am really excited for all opportunities that I will come across in my tech career in the future.