Bringing out tech's musical side
Bringing out tech's musical side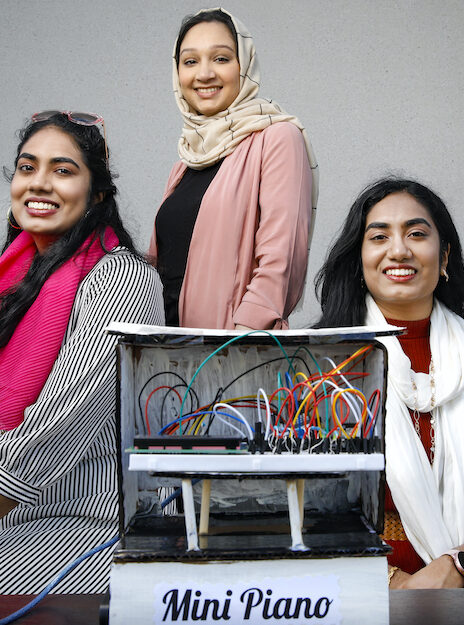 Sarah Iqbal, Ammara Ashraf, and Farah Iqbal use their computer science knowledge to create a modern classic.
Technology can be creative. Technology can be fun.
As three UIC women proved in their Expo 2021 project, tech also can be musical.
Ammara Ashraf, Farah Iqbal, and Sarah Iqbal combined their knowledge of computer science with their love of music to create a mini piano based on an open-source microcontroller board called the Arduino Uno.
The group sought out a project for Expo, UIC Engineering's annual design showcase, that brought together the modern and the traditional. "I wanted to show others how we can take a classic instrument, a piano, and convert it into a device that uses electrical components like lights and a display screen to make it an interactive project," Sarah said.
The list of ingredients included the Arduino Uno, a breadboard, several LED lights, an LCD screen (with a potentiometer to control brightness), some buttons, a buzzer, and a remote control. Thanks to their experience in CS 362 Computer Design, a course that explains how hardware and software come together into a functional product, Ammara, Farah, and Sarah knew what to do with these pieces.
"This course gave us the opportunity to experiment and figure out how we can combine computer hardware and software into creating a cool project that shows off our creativity and passion," Sarah said.
The hardest part about creating the mini piano turned out to be unrelated to technology. "The biggest challenge our team had to face was communication!" Farah recalled. "It was tough that we couldn't meet in person to discuss our ideas, but we still made it work." The team members met often via video chat to come up with ideas, develop a plan for their project, put everything together, and test their work.
Is it easy or hard to be creative with technology? Both, said Ammara. "It's easy to come up with new ideas and different ways to approach them," she explained. "Although the implementation can be tricky sometimes, it makes it much more rewarding at the end!"