A roller coaster worth waiting for
A roller coaster worth waiting for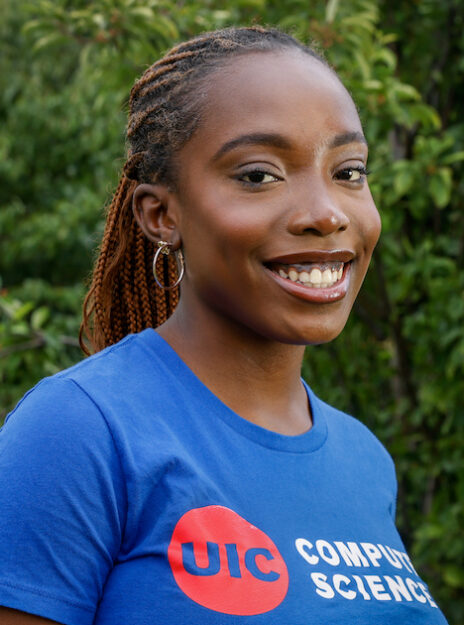 Tomi Okunola has found challenge and joy in her decision to minor in computer science at UIC. In this HOW ("Her Own Words") column, she talks about how the ups and downs have led to a recognition of her place in the tech world.
Her Own Words (HOW) series
From "woman in tech" to "woman in STEM" and even "computer science minor" — these were labels I never imagined would define me today. A year and a half ago, the opportunities, tasks, and projects that the tech world would offer me were beyond my imagination. As a freshman, I embarked on the path of studying economics due to my fascination with concepts like supply, demand, resource utilization, and production in the economy. However, the allure of coding and problem-solving using technology proved even more captivating.
Admittedly, my journey in the tech realm has been a roller coaster of challenges and triumphs. The moments of triumph have been marked by the sheer satisfaction I derived from coding, solving intricate problems, and disrupting conventional norms. Yet, these highs were intertwined with the frustrations of coding as a novice, the times when perseverance was the only way forward, and the instances when I had to carve out my space in the tech world, both for myself and others like me.
Economics had always presented a comfortable challenge, be it in the realms of macro, micro, or econometrics. However, my trajectory took an unexpected turn when a member of Break Through Tech Chicago reached out, questioning if I had ever considered a career in tech or a minor in computer science. Initially intrigued yet hesitant, I was eventually compelled to action after meeting two members of the Break Through Tech Chicago team, Elena Lathos and Astrid Vargas. Their info session on the CS 111 introductory computer science course and Break Through Tech Chicago's offerings left me resolute that this was the path I wanted to embark upon. Looking back, it's safe to say that this was the best decision I've made.
In the past year, my journey has encompassed the Grace Hopper Celebration and, most significantly, a Sprinternship™ with Google. Collaborating alongside other Break Through Tech Chicago women at Google was a revelation. It granted me insights into design thinking and the true essence of working in tech within a reputable organization. As a Nigerian-American woman, the narrative often hints that I might not fit or that certain roles demand extraordinary efforts just to be acknowledged. It's a reality I acknowledge, yet today I stride confidently, recognizing that there's a place for me in the tech world — and I am immensely proud.
With my final semester of college on the horizon, I'm grateful Break Through Tech Chicago reached out to me. The opportunities of the past year have molded me into an economics major and, even more significantly, a computer science minor. I'm elated to call myself a Break Through Tech Chicago member. Now, as I reflect on my journey, I'm inspired to convey to other women with similar backgrounds that they too can overcome, regardless of the challenges they face. I stand as a testament that if I can do it, so can they, and that the pursuit of a tech-driven future is never constrained by time.