Programming, preparation, and poker at PEAK6
Programming, preparation, and poker at PEAK6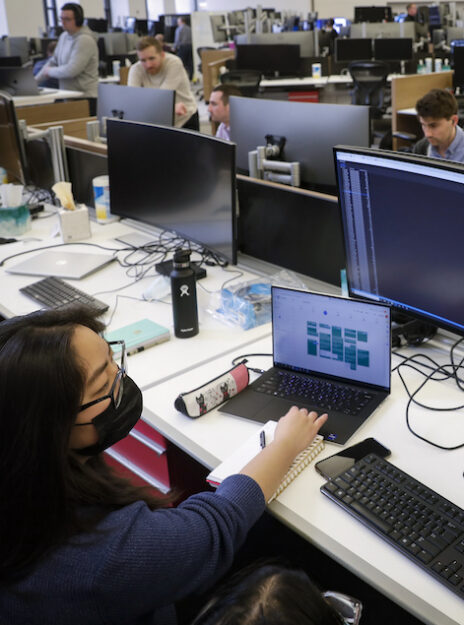 Following a successful all-virtual Sprinternship™ in 2021, the financial services firm PEAK6 brought its 2022 Break Through Tech Chicago Sprinterns™ in house. The result? A rewarding tech immersion that combined programming experience and career preparation with one unusual ingredient.
The opportunity to hone tech skills and gain real-world experience can help to make a tech career a reality. The five Break Through Tech Chicago Sprinterns™ who worked at the investment firm PEAK6 got all that and more — including an immersion into financial markets, relationship-building with company employees, and lessons in playing poker.
For Sarah Yasin, a rising sophomore majoring in computer science, the micro-internship with PEAK6 represented her first professional work experience. She heard about the opportunity to apply for a Sprinternship™ through her CS 111 class and was excited to match with PEAK6.
Yasin didn't know what to expect from her Sprinternship but was pleased with the outcome. "I thought we would just straight up be working on projects, but we met with so many people, participated in social events, and had time to bond with our teammates and mentors."
Break Through Tech Chicago Sprinternships are designed to prepare female and nonbinary UIC students for future full-length internships that will, in turn, help them to secure well-paying tech jobs after graduation. Yasin was joined at PEAK6 by fellow students Rebekah Choi, Hina Khalid, Rachel Shi, and Tabassum Yousuf.
PEAK6 offered virtual Sprinternships in 2021 and was happy to do so in person this year.
"We were impressed with how well they did; they made real progress," said Jake Goldrich, a senior software engineer who oversaw the Sprinterns. "The one-on-one interaction with their mentors is a highlight of the program."
In addition to that hands-on mentorship, the Sprinterns met with PEAK6 co-founder Jenny Just on their first day. They had regular lunches with PEAK6 employees and learned about financial markets. They even took lessons through Poker Power, a program that Just created to teach risk-taking and negotiation techniques. (She aims to offer this program to 1 million women.) The students also connected with Maddy Wikstrom, who completed a Sprinternship at PEAK6 last summer. Wikstrom is now a full-time software engineer with the company, one of four new employees starting at PEAK6 this June.
The Sprinterns were assigned one of two projects. Yasin, Choi, and Yousuf worked on Atlas Crypto, a proprietary application programming interface (API) that allows traders to look at historical cryptocurrency trading data. They met with traders to create a tool that would visualize data, trends, and prices for 10 different cryptocurrencies.
Meanwhile, Khalid and Shi developed a tool that integrates with Slack, the communication and messaging system used by employees at PEAK6. Their Slackbot automatically routed support tickets to the correct on-call person, eliminating the need to look up and directly message the rotating daily contact.
"I was able to reach out to my mentor or any other team member at any time, and I learned a new language, Python," Khalid said. "I'm very happy I had this experience."
Lauren McCormack, the campus program manager at PEAK6, views the Sprinternship program as perfectly aligned with the company's goal of increasing gender representation in tech. The firm's investment in UIC's students and its intentional partnership with Break Through Tech Chicago have led to extended internships and developed a pipeline of future PEAK6 employees.
"The Sprinternship allows us to show what a career in tech can look like at a 'backyard' local brand in the tech community," McCormack said.